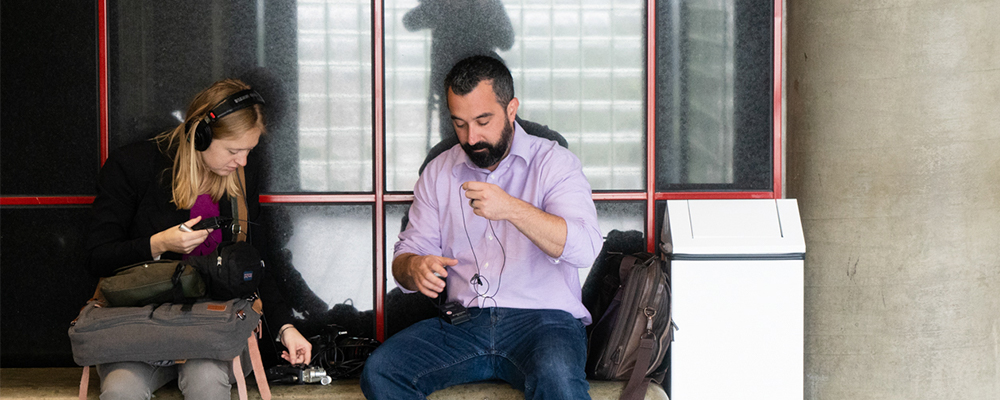 About NewsMatch
NewsMatch is a unique collaboration between newsrooms, funders, and industry experts that is designed to strengthen the fundraising capabilities of nonprofit newsrooms and promote giving to journalism in the U.S. Through NewsMatch, individual donations made to nonprofit newsrooms between November 1 and December 31 are matched by a coalition of national funders.
Since 2016, the campaign has helped raise over $150 million for nonprofit journalism, helping jumpstart small, emerging newsrooms, supporting newsrooms that serve or are led by underrepresented communities, and strengthening mission-based organizations.
---
How NewsMatch Works
Throughout the year, local and national foundations provide gifts to the Fund for Nonprofit News, hosted at The Miami Foundation. The Fund then matches individual donations made to a select group of nonprofit newsrooms during the year-end NewsMatch campaign, up to a predetermined cap.
The newsrooms that receive matching funds are required to be active members of the Institute for Nonprofit News (INN), a membership organization that supports and advances independent, nonprofit news organizations that do original, fact-based reporting.
INN and News Revenue Hub, an organization that specializes in financial sustainability strategies and implementation for nonprofit news, provide training resources and support in order to expand fundraising capacity and capabilities at participating news organizations.
The result of these activities is a surge of unrestricted financial support for independent, nonprofit news and fact-based reporting, new skills and tools for newsrooms to deepen their sustainability, and engagement with communities all over the country who care about quality news.
---
Funders
NewsMatch 2021 is generously supported by Democracy Fund, Knight Foundation, the Meta Journalism Project, the Bernard and Anne Spitzer Charitable Trust, Inasmuch Foundation, the Independence Public Media Foundation, the Jonathan Logan Family Foundation, Loud Houd, Natasha and Dirk Ziff, the Present Progressive Fund at Schwab Charitable, Sarena Snider, the William and Flora Hewlett Foundation, Walton Family Foundation, and the Wyncote Foundation. Dozens of local and issue-based funders are also secured by newsrooms, increasing the pool of match funds during the year-end campaign.
The Miami Foundation is accepting contributions from foundations and donors who want a simple and powerful way to support local news and investigative journalism. For more information, visit our page For Funders.
---
Partners
The Institute for Nonprofit News strengthens and supports 300 independent news organizations in a new kind of media network: nonprofit, nonpartisan and dedicated to public service. From local news to in-depth reporting on pressing global issues, INN's members tell stories that otherwise would go untold – connecting communities, holding the powerful accountable and strengthening democracy. Our vision is a world in which all people in every community have access to trustworthy news. INN programs help these news organizations develop revenue and business models to support strong reporting, collaborate on editorial and business innovation, share services and advance the diverse leaders who are forging a new future for news.
The Miami Foundation partners with donors to champion their causes and improve local quality of life. Since 1967, we've done this by taking leadership on civic issues, investing in our community and nurturing philanthropy. Thanks to our more than 1,000 donors, we manage more than $350 million in assets and have made over $400 million in grants that create opportunities for residents, make Miami-Dade County more resilient and foster home-grown creativity.
The News Revenue Hub helps news organizations build the trust and financial support of their audiences by providing customized technology tools and proven strategies to create and sustain successful digital membership programs.